The week kicked-off with the very first AdvanceAEC Autumn School, hosted by IntCDC, from 11-12 October. Around 180 early career researchers from the partner institutions of the AdvanceAEC research network met in nine parallel workshops and five parallel sessions - the unique opportunity to work collaboratively and interdisciplinary across several research institutions on topics like robotics, machine learning, interface architecture, additive manufacturing, social sciences and many more.
Read the AdvanceAEC Autumn School recap here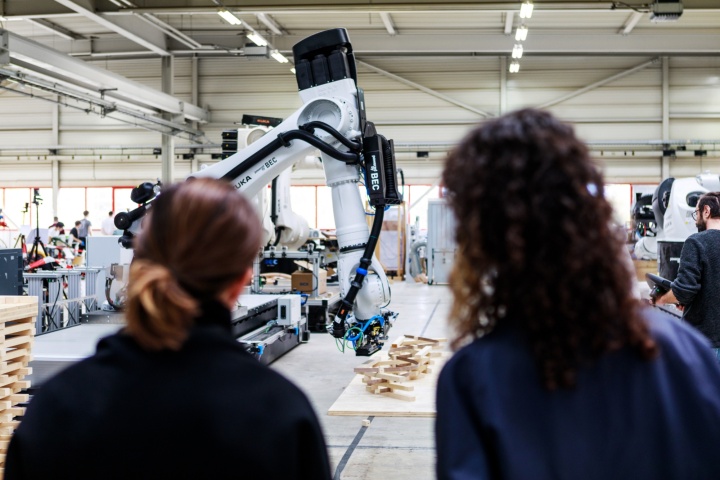 AdvanceAEC Autumn School – Workshop #6: Instructive Human Robot Collaboration and Multi-Actor Task Sharing in Timber Prefabrication

The CRC 1244 Conference on "Adaptive Skins and Structures for the Built Environment of Tomorrow" by the Collaborative Research Centre (CRC) 1244 of the University of Stuttgart was held on October 11. The presented research showed that adaptability can open up new perspectives - for a sustainable transformation of the building industry.
At the IntCDC Conference 2022 on "Integrative Computational Design and Construction for Future-Proof Architecture" 420 participants gained insight into the research of the Cluster on October 13. Initial results were presented and discussed in four sessions on:
Future-Proof Timber Architecture
The Future of Concrete Construction
Fibrous Structures for Resource Efficient Building Systems of the Future
Cyber-Physical Construction of Co-Design
The conference was framed by the keynotes of distinguished speakers Catherine De Wolfe, ETH Zurich, and Georg Vrachliotis, TU Delft.
Read the IntCDC Conference recap here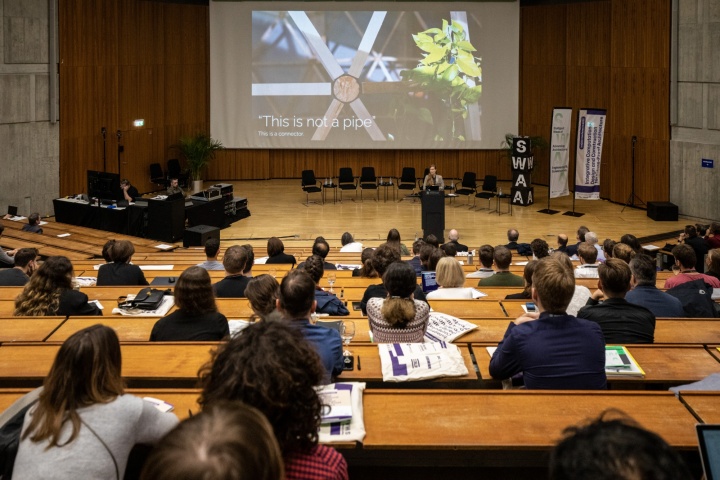 IntCDC Conference – Opening keynote by Catherine De Wolf, ETH Zurich "This is not a pipe / beam / floor - digitalisation for circular construction."

The week was concluded by the International Research and Design Forum, jointly organized by the SOM Foundation and IntCDC on October 14. At the all-day event 300 participants followed presentations on groundbreaking ideas and research centered around materiality. The second edition of the forum included leaders whose body of work, creativity and expertise inspire the future of design of the built world.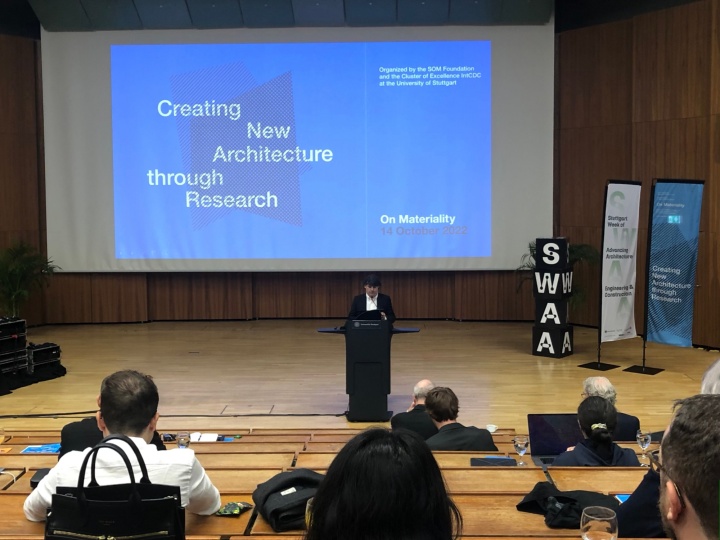 International Research and Design Forum – Welcome address by Iker Gil, Executive Director at SOM Foundation

We would like to express our gratitude to all colleagues and partners who contributed to making the "Stuttgart Week of Advancing Architecture, Engineering and Construction" a complete success!