On 7 July 2022, IntCDC, in cooperation with the Holzbau-Offensive BW and the platform digitize wood, was invited to attend the Stallwächterparty 2022, a political summer party hosted by the State of Baden-Württemberg to the Federal Government in Berlin. Around 50 companies and research institutions from Baden-Württemberg presented future technologies under the motto "The Länd - Transformation Innovation Inventions".
The party was a great success with about 1500 guests attending from politics, media, culture, economy and the civil society. It was an exciting opportunity to showcase the research of IntCDC through an exhibition and a live wood fabrication demo. The exhibition team from Stuttgart welcomed the guests at the entrance to the site, with the mobile robot platform "TIM - Timber Platform for Robotic Construction" and the imposing exhibition stand "Fancy Fence" made of stacked wooden slats. Using the robotic platform designed for mobile use and pre-production of wooden building elements, the team made a wooden table that evening to match the stand. The tables not only served as bar tables for the guests during the champagne reception, but also as lecterns for the Baden-Württemberg Minister President Winfried Kretschmann, State Secretary Rudi Hoogvliet and Thomas Strobel, Deputy Minister President and Minister of the Interior, for their welcoming speeches.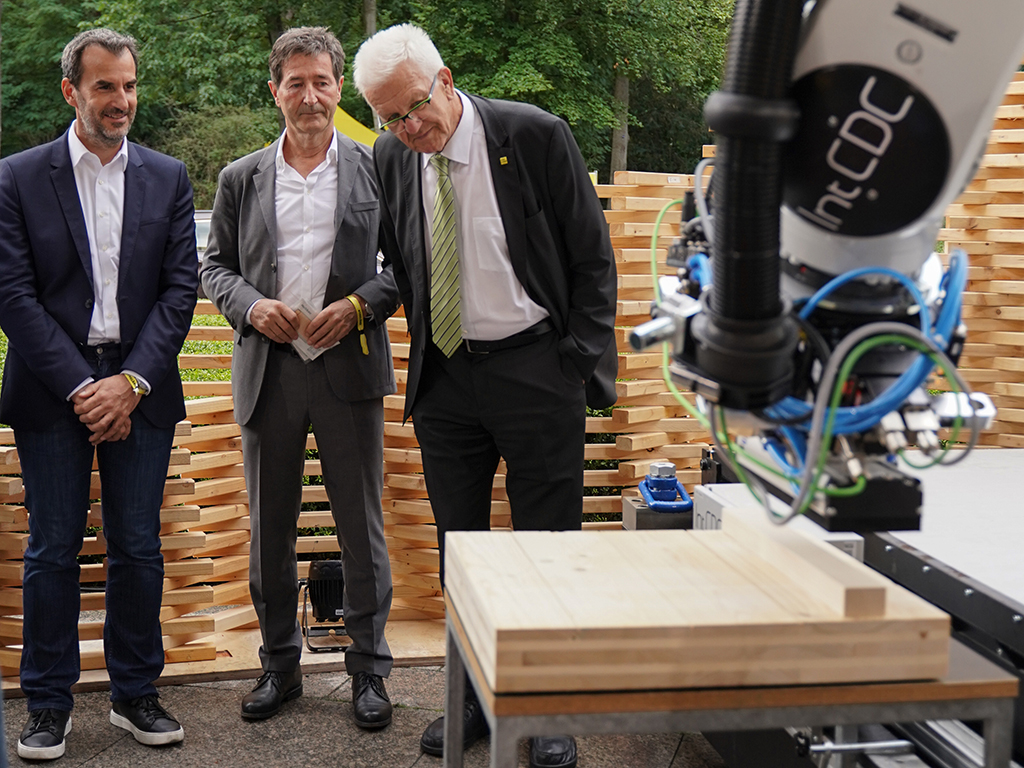 Congratulations to the entire team who made this happen!
More information can be found here.